Two RV Gypsies: Full-Time RVers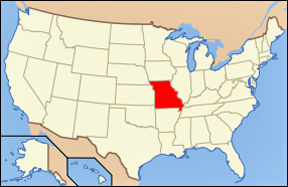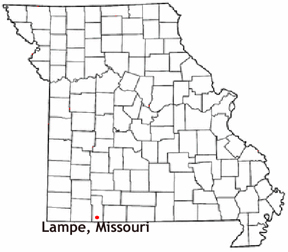 Lampe is an unincorporated community in southern Stone County, Missouri. It is located south of Table Rock Lake. The community is part of the Branson, Missouri Micropolitan Statistical Area. Dogwood Canyon Nature Park stretches across the Missouri-Arkansas border, just south of Branson, MO. The entrance is located on Missouri Highway 86, approximately 16 miles west of U.S. Highway 65. Location is shown by the small dot in the map below.
The first parcels of the property were acquired in 1990 by Johnny Morris, the founder of Bass Pro Shops. The park is managed by the Dogwood Canyon Foundation, a non-profit organization dedicated to preserving and protecting the canyon's natural plant and wildlife environment. The Foundation promotes environmental conservation by maintaining the park and providing the public with an unspoiled setting for exploration and the enjoyment of various outdoor activities.

The purposes of the Dogwood Canyon Foundation are to promote natural conservation and preservation, and to preserve the natural environment and its wildlife and plant life by acquiring and maintaining ecologically significant, undeveloped land and preserving it for the benefit of the general public. To achieve its purpose, the Foundation owns, operates and maintains the Dogwood Canyon Nature Park.

Dogwood Canyon Nature Park is a one-of-a-kind experience for nature lovers and adventure seekers of all ages. Covering 10,000 acres of pristine Ozark Mountain landscape, the park has miles of crystal-clear trout streams, dozens of cascading waterfalls, ancient burial caves, unique hand-built bridges and bottomless, blue-green pools.


The walls of the jagged ravines frame a dramatic valley bursting with hardwoods, evergreens and of course, the park's namesake Dogwoods, which are especially spectacular in the spring. The streams hold record trout, and the high meadows that reach into Arkansas provide pasture for small resident herds of long-horned cattle, American bison and elk. (The two RV Gypsies did not get into the area with the wildlife).

There are many activities at Dogwood Canyon Nature Park: walking, biking, fishing, horseback rides, tram tours, private jeep tours, Segway tours and guided fishing. The two RV Gypsies took the Segway tour and those photos can be seen through the link at the bottom of this page.

Below: A wildlife display - "HELP" says Karen

Below: A reflection in the big window by the restaurant across from the waterfall and a view of the water while standing near the waterfall.

Below: A Treehouse built by Animal Planet's Treehouse Masters!

A turkey vulture and two owls by the treehouse - YES, they are real and alive.