Two RV Gypsies: Full-Time RVers

May 8, 2016
Branson Landing is an outdoor shopping area with an old time photo place, restaurants, shooting gallery, Hilton Hotel, lake cruises, a zipline and more.
A big Gorilla held out his hand in friendship, so Karen let the gorilla gently hold her in his hand as she gave him a loving pat on his cheek.

Parakeet Pete's Steampunk Balloon is the one and only Branson Landing Balloon, located just behind Belk on the north side of Branson Landing. The ride can accommodate 1 to 12 riders and floats to 188 feet above Branson Landing. Parakeet Pete's Steampunk Balloon takes riders high up into the sky to see an amazing 360 degree bird's eye view of beautiful Lake Taneycomo and the Ozark Mountains.
The ride is open daily from March 1 through December 31 during regular Branson Landing hours and operate rains or shine, day or night. Of course, there is a charge.

A noisy booth at Branson Landing.

Branson Landing features a scenic boardwalk along the 1.5-mile Taneycomo Lakefront. At the heart of the Landing is a vibrant town square terracing down to the $7.5 million spectacular water attraction that features the first-ever merging of water, fire, light and music, with amazing dazzling interplay of water Fountains shooting 120-foot geysers and fire cannons blasting, all choreographed to light and music.

The water and fire spectacle is a creation of internationally renowned Wet Design, the producers of world-class shows for Downtown Disney marketplace in Orlando, Universal City Walk in California and the Bellagio in Las Vegas.

Enjoy spectacular performances of the Branson Landing Fountains starting at Noon daily.

A pirate stood watch high up on a platform overlooking Lake Taneycomo.
The two RV Gypsies ate at Garfield's Restaurant & Pub
1221 Branson Landing Boulevard
Branson, Missouri
'417.335.3701
May 9, 2016
The two RV Gypsies saw a sign (shown below) in the window of the restaurant and Lee Duquette could not resist going in and ordering the Sausage Penne. Karen Duquette had the Pasta Supremo as shown in the photo below. Both meals were amazingly delicious. Karen's had shrimp, chicken, Italian sausage, green peppers, onions and pasta in an Alfredo sauce.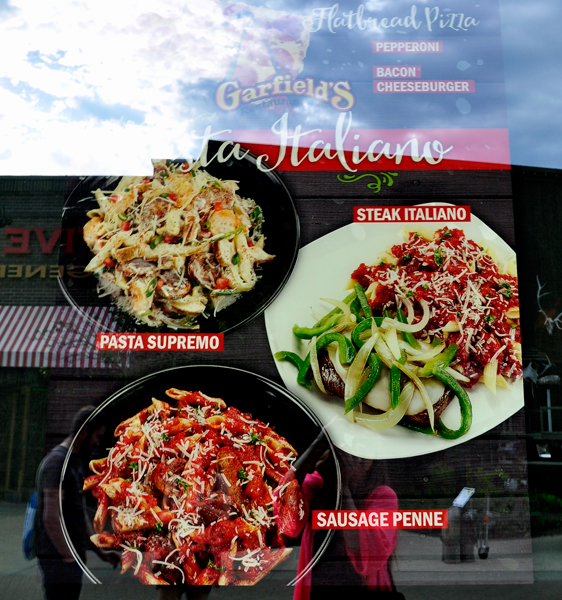 Branson Landing (this page)