Two RV Gypsies: Full-Time RVers
The two RV Gypsies and Karen Duquette's sister
ate at several restaurants
while in the state of Washington.

Restaurant #1
Planet Java Diner
72 S. Washington
Seattle, Washington
This was a nice diner, and it was clean. Its theme seemed to be clocks. There were clocks everywhere, all on different times. Plus there was the normal diner decor. The food was good. Parking outside the diner on the street had a 2-hour limit, and was metered.

Restaurant #2
Harbor Lights Restaurant
2761 Ruston Way
Tacoma Washington
Lee, Karen and Ilse stopped here to eat because Ilse wanted some steamed clams, and Karen thought that was a great idea. Lee ordered fish and chips. The food was very good and service was adequate. The restaurant was very busy. Outside seating only had tables that seat two people, but Karen, Lee, and Ilse got a table in the row next to them that gave a decent view.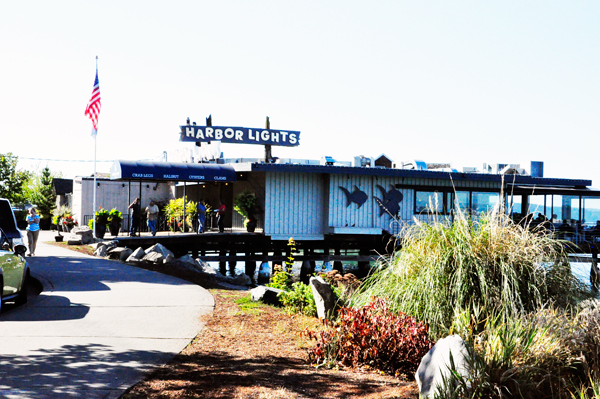 Restaurant #3
Anthonys Bell Street Diner
2201 Alaskan Way
Seattle, Washington
July 1, 2015
The two RV Gypsies and Karen's sister stopped here for lunch while walking around the city of Seattle in Washington state. The sandwiches were very good. There was no bathroom on premise to wash their hands. This diner is also a small store. The only seats were bar stools by the window with a view of the people walking by.

Restaurant #4
Gordy's Pizza and Pasta
1123 East 1st Street
Port Angeles, Washington

The pizza was OK, but nothing special. They did not put one of those tall pizza stands on the table, so the pizza sat flat on the table and took up all of the space. The window view was nice. Everyone stood in line when they came in the door and placed their order (just like a fast food place). Then they chose their own table and waited for their food to be ready. No, the two RV Gypsies would not return to this restaurant.
Note: The above comments are just the experience of the two RV Gypsies. These comments do not make the restaurant good or bad in general.
Please continue on to any of these 44 sections in the state of Washington that you have not yet seen. There is also a link to BC, Canada below.

Restaurants

AFTER you have seen all of the above sections, please continue on to British Columbia, Canada: Cultus Lake, Bridal Falls, Harrison Hot Springs, City of Hope, the tunnels, Whistler, Brandywine Falls, Sea to Sky Gondola in Squamish, Shannon Falls, a bear tour, Lac La Hache Provincial Park, Prince George, Glaciers and waterfalls in Smithers, salmon jumping, Indians net fishing and more.