Two RV Gypsies: Full-Time RVers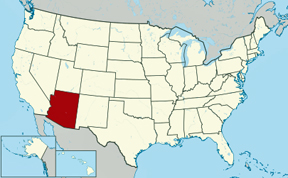 The two RV Gypsies visited Willcox, Arizona
July 20, 2012
Just before entering the State of Arizona, the two RV Gypsies crossed over the Continental Divide.

The mountains seen as the two RV Gypsies entered Arizona are quite unique. The scenery kept changing. These were photographed from the moving RV.

Cacti at the Arizona rests stop and a crop plane circling the roadway

Below: Big Tex BBQ Restaurant in Willcox, Arizona: Situated in an old red railroad car at 130 E. Maley Street in Willcox and in the immediate vicinity of the Willcox Historic District and the old train depot (which is now the Willcox City Hall). While Barbecue (Bar-B-Que or BBQ) appears to be their specialty, the menu included a number of other western and traditional American casual dining meal and sandwich selections. The two RV Gypsies were not that happy with their meal, but they loved the indoor decor.

Karen Duquette inside the BBQ restaurant in Willcox, Arizona

Below is a photo of a painted hand saw that was hung over the inside doorway of the restaurant.