Two RV Gypsies: Full-Time RVers
The two RV Gypsies at Moyie Springs
and Moyie River Canyon Overlook
July 2013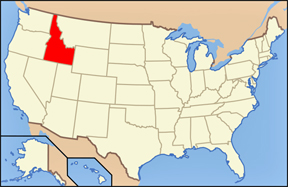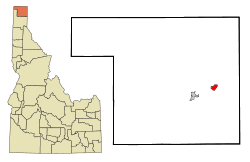 While Lee Duquette was driving the motorhome over a bridge in Moyie Springs, Idaho on July 9, 2013, Karen Duquette got a quick glimpse of a raging waterfall and managed to snap two quick photographs.

Below: A sample of the beautiful scenery while driving though Moyie Springs in Idaho

On July 10, 2013, the two RV Gypsies left their RV in the RV Park and drove their truck to Moyie River Canyon Overlook. The two signs below are big so that they can be read. They are full of interesting facts and history.

The Moyie River Canyon Bridge is a structural steel truss cantilever bridge at mile marker 70 on U.S. Route 2 spanning the Moyie River near Bonners Ferry and Moyie Springs. It was constructed in 1965 and it is 1,223-foot long and 424 feet high. The current bridge replaced an obsolete bridge built in 1923, directly downstream from the municipally owned Moyie Dam. It also replaces 1-1/4 miles of narrow, winding highway.

The bridge is the second highest in Idaho, exceeded only by the 476-foot high Perrine Bridge across the Snake River near Twin Falls, Idaho.

On the other side of the bridge is the power dam, constructed by the City of Bonners Ferry, and it supplies electricity to the surrounding area. The spillway is 83 feet high and the drop is 212 feet from the top of the dam to the lower pool. (According to the sign above, Niagara Falls has a drop of only 168 feet). The Moyie River is 100 miles long.
Menu for the two RV Gypsies' Adventures in Idaho
in July 2013


You may visit these six sites in any order you choose.


There is also a link to Washington below.

Moyie Springs and Lookout

AFTER you have seen all six sections above, please continue on the adventures of the two RV Gypsies in the USA state of Washington