Two RV Gypsies: Full-Time RVers
2021 travels of the Two RV Gypsies

THE BEST WAY to view photos & read history of the travels of the two RV Gypsies is to scroll down this page UNDER the interactive map and pick a site to view. That will allow you to read about what you will find..

Another way is to use the INTERACTIVE MAP below and choose a specific state on the map. This method is good if you are interested in only a certain state. However, at this time, due to the Coronavirus, the two RV Gypsies are limiting their travels mostly to The Carolinas and other nearby states until it is safe for more extensive travel.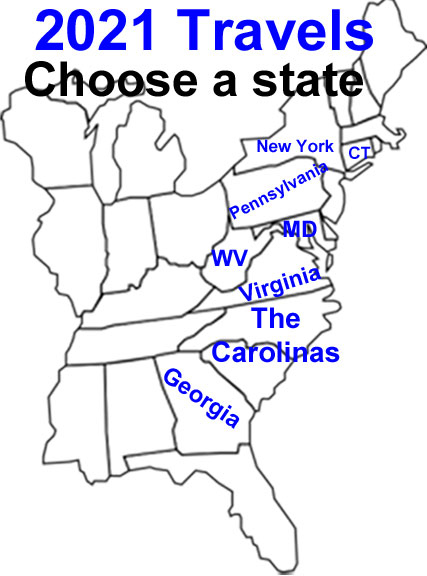 The Carolinas (NC & SC) - a multiple site menu of day trips and RV trips in 2021.
More States (as well as more GA and Carolina trips) will be added here as the Two RV Gypsies determine that it is safe to travel into other states. So please check back often.