Two RV Gypsies: Full-Time RVers
Prince William Forest RV Campground
167058 Dumfries Road (#234)
Dumfries, Virginia
August 14, 2016
703.221.2474
SPECIAL COMMENTS and PERSONAL OBSERVATIONS OF THE TWO RV GYPSIES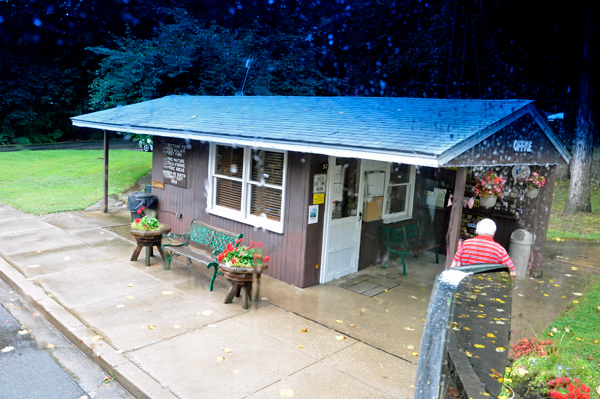 It was pouring rain when the two RV Gypsies checked into Prince William Forest RV Campground, so only one photo was taken in the campground. They chose this campground because it was the closest campground to where their friend Helen lives, and the purpose of this trip was to visit Helen. Therefore, they did not explore the campground at all. But here are a few comments anyway.
The brochure showed 72 sites and listed 35-40 foot pull-thru sites, and 50-65 foot 50-amp back-in sites. Yet, the 40-foot motorhome of the two RV Gypsies barely fit into their site and their toad had to park sideways in front of their RV. Their site was uncomfortably close to the neighboring sites.
There was no cable TV, and their antenna brought in extremely poor quality viewing of the few TV stations it found. The campground Wi-Fi was unsecured and very slow.
The campground had a swimming pool, playground and laundry, but the two RV Gypsies did not use any of those things. Actually the two RV Gypsies never even wandered around the campground. Many roads in the campground were one-way, which is usually a good thing. Most standard campground rules applied. Check-out time was noon.
The above comments are just the experience of the two RV Gypsies. These comments do not make the campground good or bad in general.
4 CAMPGROUNDS THE TWO RV GYPSIES STAYED AT IN VIRGINIA
August 2014.

Prince William Forest RV in Dumfries (this page)


AFTER you have viewed all seventeen (17) sections above, please continue on to the adventures of the two RV Gypsies in Maryland.