Frankenmuth, Michigan
June 11, 2013
Page 3 of 3 -
BRONNER's -
The World's Largest Christmas Store
Bronner's features a fantastic selection of Christmas ornaments and trims, trees, Christmas lights, nativities, collectibles, Christmas cards, garlands, stockings, Advent calendars, wreaths, giant displays and much more. Of more than 6,000 styles of ornaments which Bronner's carries, half of the glass ornaments are Bronner's exclusive designs.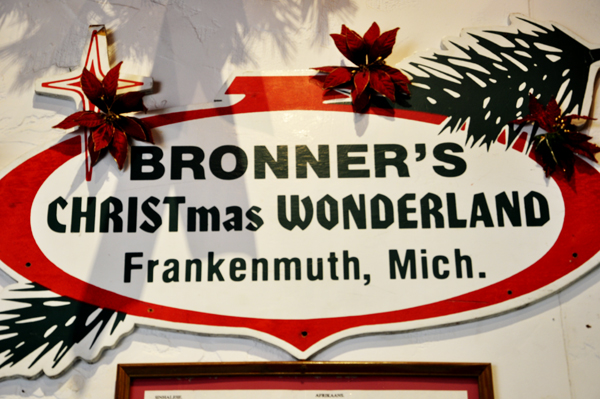 Bronner's Christmas Wonderland is the "World's Largest Christmas Store." Designed with an Alpine architecture and operating year-round, the building is 7.35 acres in size with landscaped grounds covering 27 acres. Outside the entrance are three 17-foot tall outdoor Santas and a 15-foot tall snowman. Inside, there are approximately 800 animated figurines at various locations throughout the store. Bronner's parking lot can accommodate up to 1,080 cars and 50 buses. Some 100,000 lights illuminate Bronner's half-mile long Christmas Lane in the evening. Michigan designated Bronner's as an "Embassy for Michigan Tourism" in 1976. Bronners employs over 500 people during the holiday season (between October and Christmas).
Bronner's inventory exceeds 50,000 trims and gifts, including Christmas ornaments, artificial Christmas trees, Christmas lights, Nativity scenes, Christmas decorations, collectibles, and similar goods. Each year, approximately 600,000 glass ornaments, 530,000 feet of garland, 150,000 postcards and 86,000 light sets (nearly 530 miles of light cords) are sold.

Trivia:
Bronner's electrical bill averages $1,250 per day.

If all the light sets sold in one year at Bronner's were stretched out in a continuous line, they would span approximately 530 miles.

Billboards advertising Bronner's are spread out as far south as Lake City, Florida on I-75, and as far west as Missouri.

Wally Bronner, a devout Lutheran, always insisted on capitalizing the CHRIST in "CHRISTmas Wonderland."
Above From Wikipedia, the free encyclopedia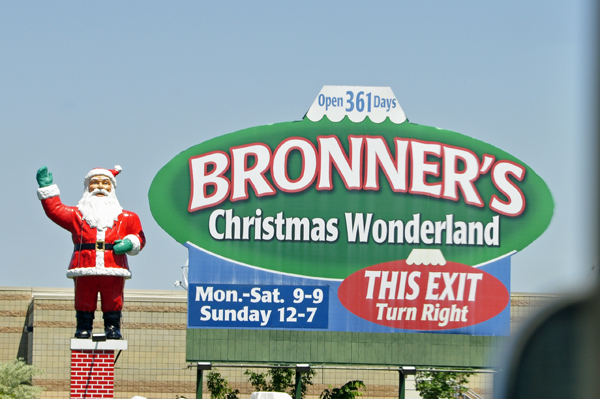 PHOTOS ARE POSTED BELOW this additional trivia:
1. Bronner's features over 50,000 trims and gifts for all seasons, reasons and budgets.
2. More than 350 decorated Christmas trees are beautifully displayed in Bronner's salesroom.
3. More than 700 whimsical, animated figures enchant guests in the salesroom.
4. As many as 100,000 individual lights illuminate the salesroom.
5. Decorations and gifts from 70 nations can be found at Bronner's.
6. Bronner's stocks Merry Christmas ornaments in more than 70 languages.
7. Bronner's carries Bibles in numerous languages.
8. About 1,000 figurines comprise Bronner's Hummel collection.
9. Bronner's complete collection of Precious Moments figurines numbers 1,700, one of each subject  produced for purchase in the collections' first 25 years.
10. Bronner's carries over 150 styles of nutcrackers.
11. There are over 500 different styles of Nativity scenes for guests to enjoy in the Bronner salesroom.
12. Bronner's patented life-size Nativity has been shipped to all the continents.
13. Over 6,000 different styles of unique ornaments are featured at Bronner's.
14. Bronner's artists personalize over 100,000 ornaments annually. One of Bronner's ornament artists has personally hand painted nearly ½-million ornaments during her 25 years at Bronner's.
15. Each year, approximately 1.3 million glass ornaments and 135,000 light sets are sold at Bronner's.
16. If all the light sets sold in one year at Bronner's were stretched out in a continuous line, they would span approximately 530 miles.
17. Nearly 700,000 feet of garland are sold at Bronner's annually.
18. Visitors purchase 100,000 postcards of Bronner's each year.
19. Half of the items Bronner's carries sell for under $10, and two thirds are priced under $20.
20. Bronner's Annual Dated Christmas ornament series originated in 1974.
21. Bronner's annual Birth of Christ ornament series was introduced in 1986 with the ornament entitled The Annunciation.
22. Bronner's introduced a new Ethnic Christmas Customs ornament in 1987. A Merry Christmas greeting in a particular country's language is featured on the front side of the ornament with a brief description of the country's Christmas customs on the reverse side.
23. Bronner's produced its first, custom annual ornament form in 2000.
Below are just a few photos inside the store. You must see this place to believe it.

The Polar Bear tells Karen a secret

Karen Duquette dances
with the polar bear

Wherever Bronner's displays a Christmas tree full of ornaments, the ornaments displayed on the tree are also displayed below the tree so that if customers like the theme of the tree, they don't have to hunt all over the store for the ornaments.

There is a large selection of Just Married ornaments behind these extra large bride and groom statues.

A large Detroit Tiger stuffed animal and many Detroit Tiger ornaments

A Music Box filling the air with music

A giant ornament with a nativity scene

Karen's cousin Cyndi likes cats - and she took these photos of cat ornaments.