Two RV Gypsies: Full-Time RVers
The two RV Gypsies
at Rawlins KOA in Rawlins, Wyoming
August 13, 2013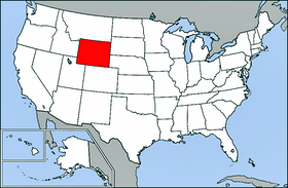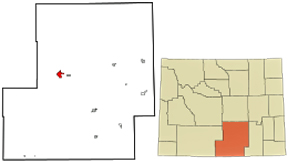 The two RV Gypsies stayed at Rawlins KOA at 205 E. Highway 71 in Rawlins, Wyoming for a one-night stopover. This was their second visit to this park, each time was a one-night stopover. Trains went by and blew their horns at all hours, but they weren't as loud as at other campgrounds. TV came in decently here, and so did the internet. Rules seemed like the standard KOA campground rules. There was lots of road noise at night. Check in time was 1 P.M. and check out time was 11A.M. Sites had a patio, picnic table and a brief wooden fence. The wooden fence might be to block the view from the apartments that are next door. Maybe the apartment residents do not want to watch people eating at their picnic table, which the two RV Gypsies seldom do anyway.

Outside of the office, a fence was lined with boots that were filled with flowers.

More stuff outside the KOA office.

The two RV Gypsies made a full day sight-seeing in this area: Devils Gate, Independence Rock, and Martin's Cove - see the menu below for navigational links.
This is not a linear site, so to continue navigating this website, please choose from the four (4) options below:

OR
OR