Two RV Gypsies: Full-Time RVers
The two RV Gypsies in Wisconsin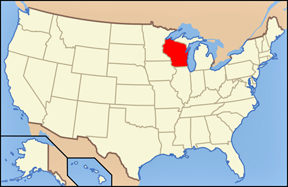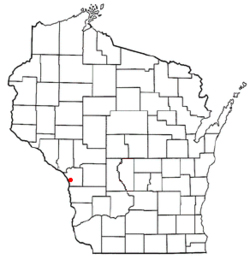 Crossing over the Mississippi River to the Wisconsin Welcome Center

Onalaska is a city in La Crosse County, Wisconsin. The name for the city comes from the poem, "The Pleasures of Hope", by the Scottish poet Thomas Campbell. The original spelling of the name in Campbell's poem was "Onalaska" (an Aleutian island and fishing village). Onalaska sits on the banks of the Mississippi River and is conveniently located right off I-90. It's the ideal place to relax and enjoy the outdoors. Onalaska is known as "The Sunfish Capital of the World."

The two RV Gypsies at the Big Fish monument on the edge of town on Highway 35. (The two RV Gypsies also enjoyed the great restaurant located just across the street from the Big Fish)

Onalaska is home to the Great River State Trail, which follows the Mississippi River for 24 miles and links to 101 miles of interconnected state biking trails.
Below are 5 sections of the adventures of the two RV Gypsies in Wisconsin. You may view them in any order you wish. The page you are on is grayed out and cannot be chosen from here.

Onalaska
Sunfish Capital of the World

After you have viewed all five (5) sections above, please continue on to Beatrice, Nebraska.