Two RV Gypsies: Full-Time RVers
Riverside International Friendship Gardens
in La Crosse, Wisconsin
June 23, 2012
At the entrance to the Chinese Garden on the banks of the Mississippi River, the moon gate is topped by two granite dragons from Lu Yung China. There are four different symbols throughout the Chinese Garden that stand for love, wisdom, tranquility, and harmony.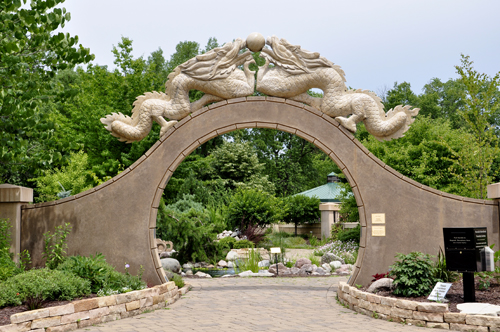 The pond, bridge, and a bird on the rock in the Chinese Garden.

There are four different gardens in the Riverside International Friendship Gardens: Chinese, French, German, and Russian.

The carved trolls by Bernard Schank look mighty happy peeking around shrubs as they nestle near the waterfall.

Karen Duquette kissed a troll and the troll sure has a happy look on his face.

The French Garden
A Weeping Birch Tree: Betula pendula is primarily a cultivated species in Wisconsin.
Below are 5 sections of the adventures of the two RV Gypsies in Wisconsin. You may view them in any order you wish.

Riverside International Friendship Gardens