Two RV Gypsies: Full-Time RVers
The two RV Gypsies drove 70 miles northwest
from Watonga, Oklahoma to
Waynoka, Oklahoma to see Little Sahara State Park and its dunes.
Watonga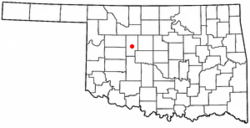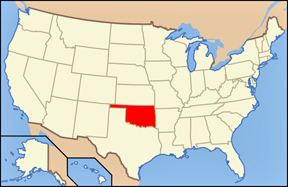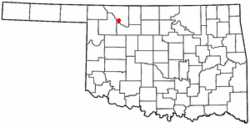 Waynoka
A prime example of Oklahoma's diverse terrain, Little Sahara State Park is located four miles south of Waynoka in northwest Oklahoma and boasts over 1,600 acres of sand dunes, ranging in height from 25 to 75 feet. The vast dunes have formed over time from terrace deposits, remnants of prehistoric times when the Cimarron River flowed over the entire area during the Pleistocene Age. This makes for extremely fine quartz sand.
The main attraction at Little Sahara State Park is dune buggy and ATV riding across the sand dunes. Visitors can either bring their own ATV or rent one off-site by a private vendor. Either way, visitors will have a blast in this mini-desert atmosphere, known as one of the best riding spots for ATV's in the Midwest. There are specific requirements for those bringing your own ATV.
ATV's can sometimes be rented but the temperature on the dunes is 10 degrees hotter than off the dunes, and that meant that today was so hot out that no-one would rent out ATV's on this day. The Two RV Gypsies took a short walk up to the beginning of the dunes, took a few photos, and quickly agreed that they wanted to get back into their truck and the A/C.

The two RV Gypsies are not sure what this is growing in the dunes.

The two RV Gypsies drove around town for a short time, but did not find anything else of interest to them.