Two RV Gypsies: Full-Time RVers
Garfield's Restaurant & Pub
1221 Branson Landing Boulevard
Branson, Missouri
'417.335.3701
May 9, 2016
The two RV Gypsies saw a sign (shown below) in the window of the restaurant and Lee Duquette could not resist going in and ordering the Sausage Penne. Karen Duquette had the Pasta Supremo as shown in the photo below.
Both meals were amazingly delicious. Karen's had shrimp, chicken, Italian sausage, green peppers, onions and pasta in an Alfredo sauce. Although Karen's Italian Margarita was a bit weak.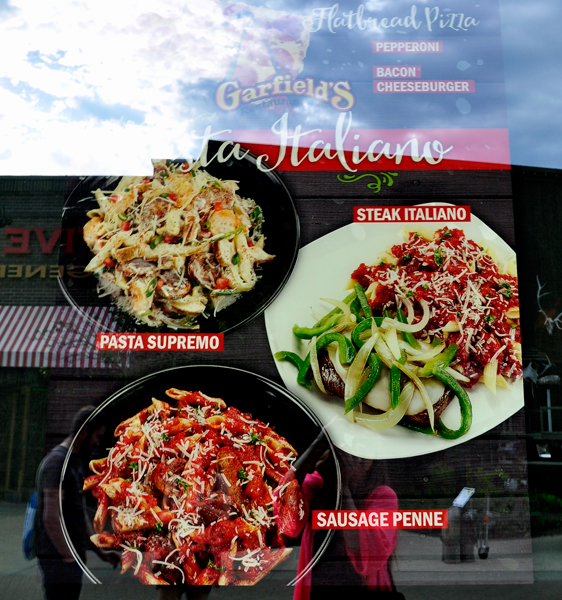 Later, at the Rick Thomas Illusionist show, the two RV Gypsies were brought up on stage with Rick. Because of their participation in the actual show, they were given 2 free meals at Garfields and Lee gave them away because he wanted to leave town in the morning. Karen wanted to extend a day, but Lee would not.
Such a shame. Karen was really upset with Lee about this. Karen thought being an RV Gypsy meant they could change plans if they wanted to, but guess that is only if Lee wants to. What a big disappointment for Karen. It is not that often that she really loves a restaurant, especially an Italian Restaurant and was sad that Lee did not respect her wishes and at least think about it.
Note: The above comments are just the experience of the two RV Gypsies. These comments do not make the restaurant good or bad in general.

This is not a linear site, so there are always choices of where to go next: Below are two choices.
OR