Two RV Gypsies: Full-Time RVers
The two RV Gypsies in
Cincinnati, Ohio
May 2022
NOTE : The majority of the people that the Two RV Gypsies walked by while exploring downtown Cincinnati, smiled and said hello to them. Men, Women, and children of all races. Impressive. Everywhere the two RV Gypsies went, they had to pay for parking. Parking fees increased 2X and sometimes even 3X when the Reds were playing.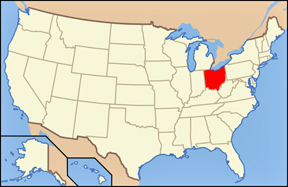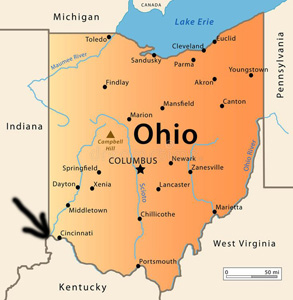 Cincinnati is a city in the U.S. state of Ohio and the county seat of Hamilton County. Settled in 1788, the city is located at the northern side of the confluence of the Licking and Ohio rivers, the latter of which marks the state line with Kentucky. The city is the economic and cultural hub of the Cincinnati metropolitan area. it is Ohio's largest metropolitan area and the nation's 29th-largest, the third-largest city in Ohio and 64th in the United States. Throughout much of the 19th century, it was among the top ten U.S. cities by population, surpassed only by New Orleans and the older, established settlements of the United States eastern seaboard, as well as being the sixth-most populous city from 1840 until 1860.
Cincinnati is home to three major sports teams: the Cincinnati Reds of Major League Baseball; the Cincinnati Bengals of the National Football League; and FC Cincinnati of Major League Soccer; it is also home to the Cincinnati Cyclones, a minor league ice hockey team.
Cincinnati has many nicknames, including Cincy, The Nati, The Queen City, The Queen of the West, The Blue Chip City, and The City of Seven Hills. Queen City is taken from an 1819 newspaper article and further immortalized by the 1854 poem Catawba Wine.

Below: On the right of the stairs is a bike channel so people can walk up their stairs while pulling their bicycle up in the bike channel.

Below: Another water fountain

Below: As the two RV Gypsies walked to the right of The Gruff restaurant, shown below, they photographed some cute sayings on the wall, as shown below the restaurant photo. Unfortunately, some of the last photo of the poem was blocked by something. There was a 4th panel, but people were sitting in front of it.

Below: The walls on the side of the above restaurant.

Below: The two RV Gypsies saw a few murals that they liked and photographed. Too bad they let cars park in front of it.

Over-the-Rhine in Downtown Cincinnati is a shopping destination. The two RV Gypsies liked the clock building shown below,

Below: A large paddlewheel high in the air, is a tribute to the grandest steamboat ever built. - The American Queen.

OR