Two RV Gypsies: Full-Time RVers
Cape Hatteras National Seashore is a United States National seashore which preserves the portion of the Outer Banks of North Carolina from Bodie Island to Ocracoke Island, stretching over 70 miles, and is managed by the National Park Service. Once dubbed the "Graveyard of the Atlantic" for its treacherous currents, shoals, and storms, Cape Hatteras has a wealth of history relating to shipwrecks, lighthouses, and the US Lifesaving Service. The islands also provide a variety of habitats and are a valuable wintering area for migrating waterfowl. The park's fishing and surfing are considered the best on the East Coast.
Below: The two RV Gypsies found a nice picnic table on the beach to enjoy their lunch.

Below: Birds flying overhead looking for food.

Below: Karen Duquette noticed a unique name for a store and snapped a quick photo as Lee drove past it.

Happy Belly Ice Cream Shop
57204 NX-23
Hatteras, NC 27943

Below: Before going inside Happy Belly Ice Cream shop, Lee Duquette anticipated what he and his ice cream would look like. He sure has a "happy belly"!

Below: Karen Duquette noticed the shiny windows at Bob's Grill and the unique saying "Eat and Get the Hell Out" so she took some photos as they passed. Later, when Karen looked this place up on the internet, she wished they had stopped to eat here, because of the good reviews and the uniqueness of the place. For future reference, the address is 1210 S. Croatan Highway, Kill Devil Hills, NC. Phone '252.442.0707.

"Eat and get the hell out!" Is their motto, which must be fun for the wait staff to say, as most waiters probably want to say that often! Β Good diner food, good coffee, and good service plus a Warning: The "garbage plate omelet" is a food challenge item on the menu! - according to internet reviews.
Below: A bit later, the two RV Gypsies at at
Currituck BBQ Company
4457 Caratoke Highway
Barco NC
The BBQ pork and chicken was good. But as in many BBQ places, it was served in Styrofoam containers lined with paper. The two RV Gypsies hate that.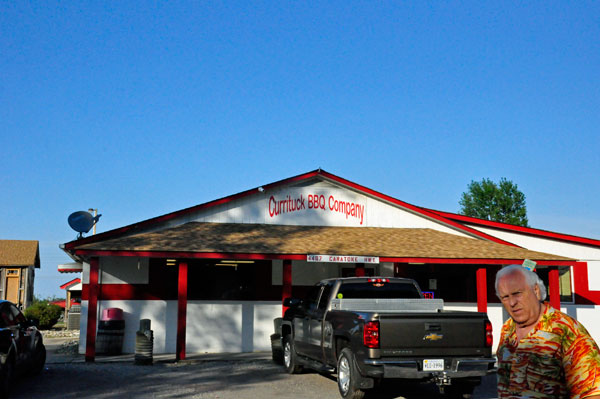 OR