Two RV Gypsies: Full-Time RVers
Below: Just over the railroad tracks in Old Fort, North Carolina, is the town square defined by a 30-foot-tall arrowhead hand-chiseled in granite. The landmark was unveiled to a crowd of more than 6,000 people on July 27, 1930, by Marie Nesbitt as a symbol of the peace achieved in an earlier century between pioneers and Native Americans. For many years, travelers through these mountains looked for the familiar sight of a tall, hand-carved arrowhead in front of the depot, signaling a stop in the historic town of Old Fort.

As one of the oldest towns in the region, it prides itself on its historic roots. Originally a fort built by the colonial militia before the Declaration of Independence, the settlement served for many years as the western-most outpost of the early United States. In those days, it was also the site of many skirmishes between pioneer settlers and Native Americans. Much of the fighting, in fact, took place on the banks of Mill Creek, which runs through the center of town. Many years later, a monument was built to the peace finally made between the two peoples: the trademark arrowhead that stands next to the Chamber of Commerce.

quote from From Wikipedia, the free encyclopedia
The two RV Gypsies seldom eat at Fast Food Joints, but after leaving Catawba Falls, nothing else was open in the town, so they stopped at Hardees. They asked for a Senior Discount, and the cashier said okay, but did not ring up the discount. The two RV Gypsies did not realize that until later. Karen had a roast beef sandwich with cheddar cheese that was good. Lee had a hamburger that was skimpy, totally burned and no good at all. Read about the French Fries below!

Shouldn't the French Fries served at Hardees look something like the photo advertised?

Below: French Fries with Cheese and Bacon as actually served at Hardees and a picture of French Fries with Cheese and Bacon as advertised in Hardees window. They will never eat at Hardees again.
Below: Sunset taken through a closed window of the moving car.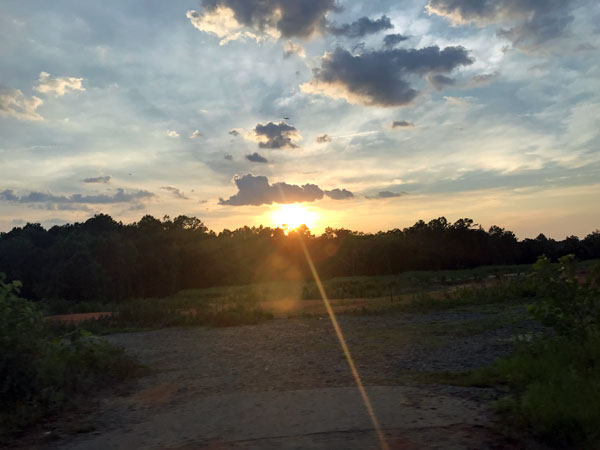 OR