Two RV Gypsies: Full-Time RVers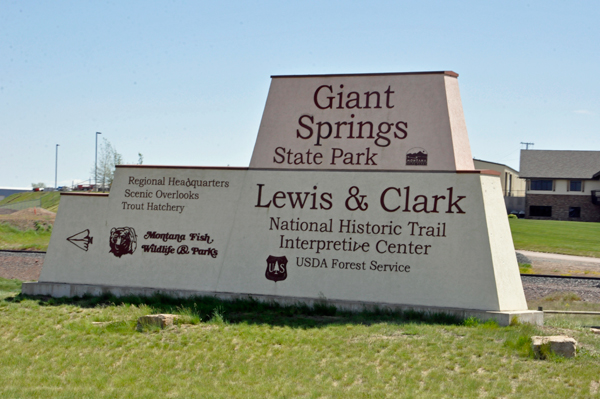 Managed by the USDA Forest Service, the 25,000 square-foot building includes the permanent exhibit hall, 158-seat theater (partially shown in the photo below), an education room for hands-on curriculum-based activities, and a retail store. Entry fee was $8.00, children age 15 and younger free. National Senior pass was accepted.

The Lewis and Clark National Historic Trail Interpretive Center imparts to the public a personal sense of President Thomas Jefferson's vision of expanding America to the west; it inspires awe and awakens curiosity toward the challenges faced by the expedition as they portaged the great falls of the Missouri River and explored the 'unknown'; brings to life the daily experiences of the expedition and the environment and native peoples of the 'uncharted West'; and celebrates the indomitable spirit of human discovery we all share.

Below: The Interpretive Center chronicles the journey of Lewis and Clark, as well as the important experiences with Plains and Northwest Indians. Re-live the 1804-06 Lewis and Clark Expedition's 8,000-mile journey across western North America. Learn details of the plants and animals that expedition members documented. Feel the Expedition's disappointment at the impossibility of a Northwest Passage water route. The Center's exhibits and ranger programs bring alive the indomitable spirit of exploration.






Comment: Too bad today's world does not have these etiquette rules and politeness and respect of others anymore.