Two RV Gypsies: Full-Time RVers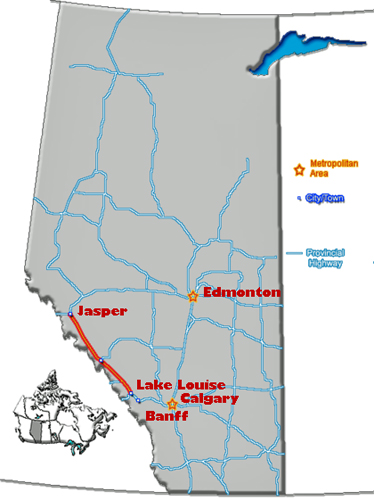 Alberta is bounded to the west by British Columbia, to the south by Montana-USA, to the east by Saskatchewan and to the north by the Northwest Territories. The Capital of Alberta is Edmonton. Fantastic Scenery everywhere! And plenty of wildlife.
Below - There is a daily fee to drive on the Icefield Parkway - money well spent because the Icefield Parkway has some of the most beautiful scenery the two RV Gypsies have ever seen - lakes, mountains, waterfalls and more around every corner, and the scenery just kept getting more awesome by the minute.

The Icefield Parkway joins the Jasper and Banff National Parks in the most breathtaking beautiful drive throughout the entire parkway. The Icefield Parkway is considered a scenic drive, not a transportation corridor. That's why you need to buy a park pass to drive the parkway. Large trucks are banned and the speed limit is leisurely. The Icefield Parkway passes within viewing distance of seven ice fields (large upland glaciers) and 25 smaller glaciers and so much more.

These campgrounds do not accept reservations, and the sign said that all the campgrounds were full except Whistlers and Snaring River Overflow. So the two RV Gypsies drove to Whistlers Campground.

Upon arriving at Whistlers, the two RV Gypsies were told that the campground was full even though they have 781 sites, but they could pay and go to Snaring River Overflow, which is dry camping. The two RV Gypsies don't like dry camping, but didn't have a choice.

Below: The roads to Snaring River Overflow. Note: Be sure to read directions correctly and don't let the signs fool you. Do NOT turn left into the campground that is in that area (especially if you have a big coach), but DO go over the bridge and turn right into the big empty field that is Snaring River Overflow.

Below: view from the dining room window of the two RV Gypsies RV at Snaring River Overflow. What a great yard to have.

The two RV Gypsies parked in the big open field. No hook-ups. No Wi-Fi. No TV. But they did have peace and beautiful scenery. Lots more RVs came in the next few days.

The two RV Gypsies took a drive into the town of Jasper. They were also here in August of 2009. The town of Jasper is amid the serene mountain setting of Jasper National Park, which is north of Banff National Park and is the largest of Canada's mountain national parks.

The two RV Gypsies got a glimpse at the butt of some wildlife as they scampered up a hill.