Two RV Gypsies: Full-Time RVers
The two RV Gypsies hiked to Tallulah Falls
August 2, 2014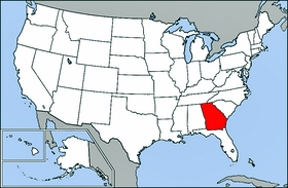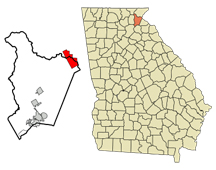 (A link to a flashback is in the sub-menu at the bottom of this page)
Tallulah Gorge State Park is a spectacular joint venture of the Georgia Department of Natural Resources and Georgia Power that preserves one of the deepest canyons in the eastern United States. Located within the city limits of Tallulah Falls, Georgia, the canyon reaches depths of nearly 1,000 feet and features seven key waterfalls. Two miles long, the gorge is rich in both natural and cultural history and is ranked as one of the Seven Natural Wonders of Georgia.
While many today believe that the name "Tallulah" originated with the Cherokee, there is a bit of a debate on that topic. The name is similar to a Cherokee word that means "The Terrible," but the Cherokee themselves knew the gorge by the name "Ugunyi." The name "Tallulah" was applied by white settlers at some point before the Civil War.

Access to the canyon bottom is by permit only. Permits are free and can be obtained at the interpretive center, but note that ONLY 100 permits are issued per day. The park is extremely popular and the quota of permits is often filled first thing in the morning.
Karen and Lee Duquette did obtain the permit in 2005, but not on this date in 2014. Those flashback photos are posted and can be reached through the sub-menu at the bottom of this page.
The two RV Gypsies did not think this hike was too strenuous, but it definitely is not for the faint of heart.

View of the suspension bridge - Karen Duquette's favorite part of this hike.

The two RV Gypsies on the suspension bridge at Tallulah Falls.

Lee Duquette on the suspension bridge and a look over the side from the bridge.

221 plus 347 = 568 stairs one way - 1,136 steps round trip - yes, Lee Duquette is going to do it!

As always, Lee went DOWN the stairs backwards.

Almost to the lookout point at Tallulah Falls

The two RV Gypsies enjoyed the view of Tallulah Falls.
Tallulah Falls - 2014 (this page)

<