Two RV Gypsies: Full-Time RVers

The two RV Gypsies visited friends in The Villages
April 22, 2010
The Villages is a city in central Florida for 55+ living. The friends of the two RV Gypsies told them that Village residents enjoy free golf for the rest of their lives on the executive golf courses. They pay only for the use of a golf cart. There are currently 24 golf courses. Golf lessons available. There are also many recreation centers in The Villages. There are two town squares with free nightly entertainment, modern movie theaters, shopping, and dining opportunities. Free line dancing for residents too.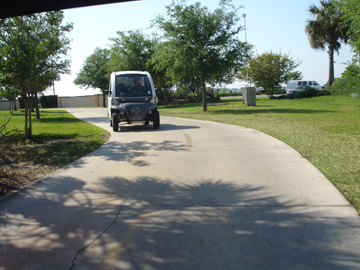 The two RV Gypsies have friends living in The Villages, and Karen enjoyed being a guest at several line dance classes. The line dance teachers were very nice and their classes were quite enjoyable.

Many (probably most) of the residents drive golf carts instead of cars in The Villages.

There are special roads, tunnels and paths for golf carts and bikes

Below: The golf cart road beside the regular car road in the Villages.
The two RV Gypsies explore Florida's west coast & central Florida in their RV.
You can view any of the following pages in any order you choose.
The page you are on is grayed out and not underlined and cannot be chosen from here.

The Villages