Two RV Gypsies: Full-Time RVers
NOTE: Comments do not make the campground good or bad in general. They are just the observations and opinion of the two RV Gypsies on a certain date.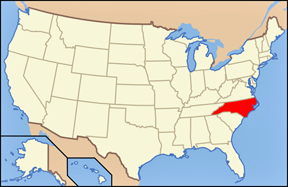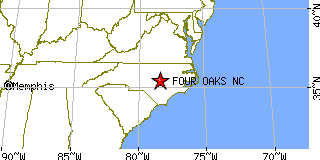 It was a very rainy day, and not much fun to drive the big RV in such conditions. There were many big puddles in the yards of the houses that the two RV Gypsies drove by, and of course, lots of puddles in the roadways as well. But the two RV Gypsies arrived safely at their destination.
Four Oaks Lodging & RV Resort is about 40 miles from Raleigh, NC. The campground had Wi-Fi and full hook-ups and it was only $32 a night. The water pressure was great. Only a few TV stations came in via antenna, and not that well.
It was still raining, so while Lee Duquette entered the campground registration area, Karen Duquette remained in the RV and took some photos through the front window of the RV to entertain herself.

Below: From the front window of her RV, Karen Duquette photographed the one-story building which has 10 guest rooms for non RVers .

Below: As Karen Duquette looked to the left of the building shown above, she saw the sign for Four Oaks Lodging and two deer statues.

Below: Alongside of the Four Oaks Lodging building, there were 2 swans made out of old lawn chairs. It appeared that they were trying to eat the grass. How Clever.

Driving to their RV parking spot in the campground, the two RV Gypsies noted that there were a lot of older, permanent stationary trailers and not too many empty spots.

Below: The long, back-in site assigned to the two RV Gypsies and a close-up of their neighbor's trailer. The neighbor had a big dog and the two RV Gypsies heard him yelling, "Shut Up Dog" every time the two RV Gypsies were outside of their RV.

Below: Since the two RV Gypsies were in a back-in site, this is the view they had looking out the front window of their RV.

Below: Trailer and private yard behind the fence shown next to the two RV Gypsies' RV.

Below: Train tracks behind the trees alongside of the campground. The two RV Gypsies could hear the noise of the train wheels on the tracks. But at least the train did not have to blow its horn because the train did not cross over any roads nearby.

This is not a linear site, so there are always choices of where to go next: Below are three choices.
OR
OR