Two RV Gypsies: Full-Time RVers

The Town of Cary is near North Carolina's Research Triangle. It is bordered on the north and east by Raleigh, on the north and west by Research Triangle Park and Morrisville, on the south by Apex and Holly Springs, and on the West by the Jordan Lake area.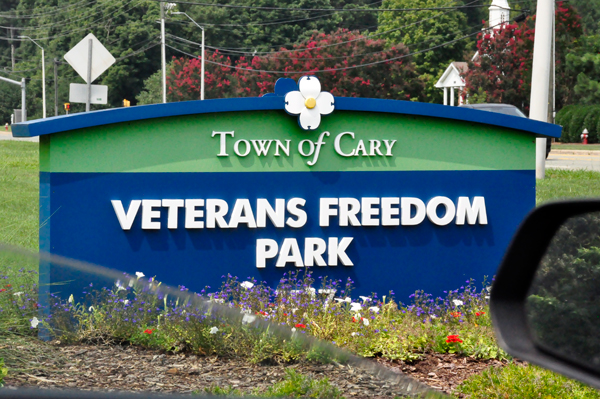 Below: From the parking lot, the two RV Gypsies got their first glimpse of Veterans Freedom Park and the Memorial Service Flags Court leading to the stunning 90-foot, white granite spire, a memorial to United States Veterans. Unfortunately, the two RV Gypsies did not realize that this is a 12 acre park and near the ballfield, there is a lot more to this memorial, that they did not get to see.

The Memorial Service Flags Court, shown above, has a nice Honor Monument and a rifle mounted with a helmet.

Below: A time capsule

flowers planted just before
the entry to the monument

Inside the wall, there are several sections of seats surrounding the Freedom Tower.

Below: As the two RV Gypsies walked the circle inside the memorial, Karen Duquette looked down at the pathway and noticed the five Seals from each branch of the military.