Raven Rock State Park covers 4,810 acres along the banks of Cape Fear River. The Visitor Center had a hummingbird feeder with two hummingbirds in the window.

Below: The trail often had stumps, big and small, sticking up that could easily cause a person to trip. And several parts of the trail were quite muddy.

Below: Two views off to the side of the trail

Below: First, the two RV Gypsies came to a down slope with planks forming stairs. Then they came to a real steep set of 100 stairs (one way). Of course, they had to go up the same 100 stairs later.

Below: The two RV Gypsies made it to the end of the trail and the big Raven Rock which was formed throughout the ages by flowing waters and swirling winds that gradually eroded the land. The rock was originally called Patterson's Rock for an early settler who found refuge there when his canoe capsized nearby. In 1854, its name was changed to Raven Rock, inspired by the sight of ravens on the rock ledges.

Raven Rock is a 150-foot high and 1-mile long rock formation along the river.

Below: a mushroom in the woods

The bottom part of an interesting tree.

The Raven Rocks Loop splits up into two directions. The other direction leads to an overlook, a small man-made stone structure high above the Cape Fear River, giving a view of the river and the underdeveloped woodlands.
The Dairy Freeze at 1268 N. Main Street, Lillington NC 27546
On this date, the Dairy Freeze let people come inside to order, but could not eat inside. Even though it was on the menu, they did not have Peanut Butter ice cream, which is Karen Duquette's favorite flavor. The Ice Cream sundae had one squirt of hot chocolate on it and one squirt of whip cream, but no cherry. The ice cream in both the sundae, and Lee Duquette's cone was very "watery" in other words, not creamy at all. They would definitely not recommend this place.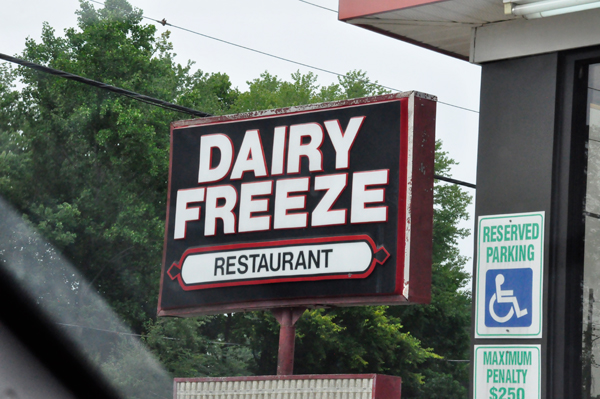 Driving through Benson, NC, Karen Duquette quickly snapped a photo of a mural that caught her eye.