Two RV Gypsies: Full-Time RVers

The Southwestern Pennsylvania World War II Memorial in Pittsburgh commemorates the efforts of local veterans who served, plus the men and women who contributed to the war efforts at home. This memorial contains hundreds of photographs. There are 24 granite panels with different narrative subjects, including that of the 28th Infantry Division (Pennsylvania National Guard) marching under the Arc de Triomphe after liberating Paris. It was dedicated in 2013.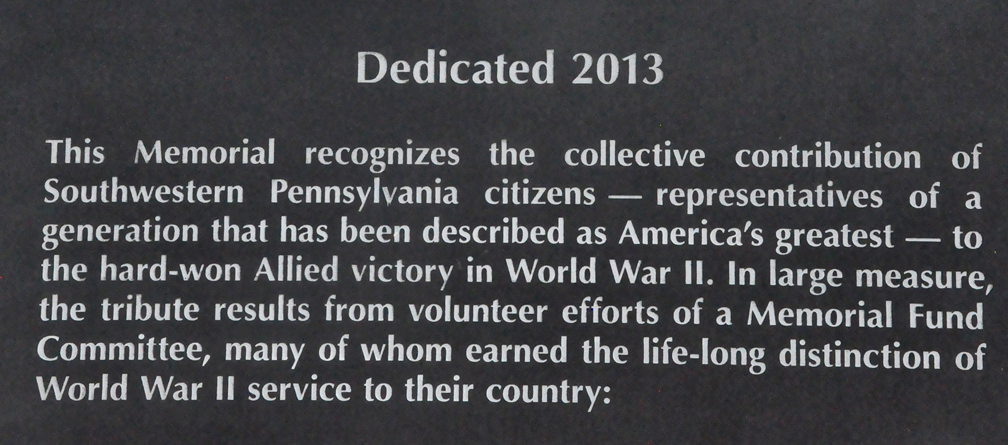 Below: Entry into the circular memorial from the front side by the American Flag.
Below: The Southwestern Pennsylvania World War II Memorial sign shown above is actually 3 sided. The other two sides are shown below.

SECTION 1 - THE WEST SIDE

Then the two RV Gypsies entered the circular memorial and turned to the right and photographed the panorama shown below. The 3-sided monument on the entry sign "Southwestern Pennsylvania World War II Memorial" and military emblems (shown above) are on the right end of the panorama shown below).


On the left end, as you look at the panorama above, is the 3-sided stone plaque with a bronze folded flag sculpture on top. Plus close-ups of the engravings on each of the three sides are shown below.

The tall black signs are granite narrative panels. The Last one on the right in the panorama photo above says "The War Begins". So if you enter at the memorial sign and American Flag and walk to the right, you will first read the narrative panel "The War Begins." even though it is on the right end of the panorama and appears to be last.

Below: Close-ups of the some of the sections in the panorama above.

Below: Some of the granite panels in this panorama that divides the pictures - Starting with the last one on the right, which is the first one you will read - "The War Begins"

Below: The East Side - (and part of The West Side that was shown and described above).


Below: A closer look at individual panels on The East Side

Below: Some of the granite panels in the panorama that divides the pictures on The East Side