Two RV Gypsies: Full-Time RVers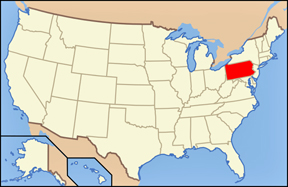 On Tuesday, September 11, 2001, National Airlines Flight 93, a Boeing 757, was going from Newark International Airport in New Jersey to San Francisco International Airport in California. The airplane had a capacity of 182 passengers, but only carried 33 passengers and 7 crew members on this date. It was hijacked by four al-Queda terrorists on board, as part of the September 11attacks. It crashed into a field in Somerset County, Pennsylvania, during an attempt by the passengers and crew to regain control. All 44 people on board were killed, including the four hijackers. It impacted at 563 mph at a 40-degree nose-down inverted attitude. The impact left a crater 8-10 feet deep and 30 - 50 feet wide.
Walking from the Visitor Center to the Memorial Plaza, the pathway was labeled with the time (hour:minute:second) that the airplane flew over that particular spot. There were a lot of people here when the two RV Gypsies were here, so they only found it possible to take one photo of one of the spots without getting people walking there.

Of the four air crafts hijacked on this date, Flight 93 was the only one that did NOT reach its hijackers' intended target. A temporary memorial was built near the crash site soon after the attacks. Construction of a permanent Flight 93 National Memorial was dedicated on September 10, 2011 and a concrete and glass visitor center (situated on a hill overlooking the site) was opened exactly four years later.

Below: Signs have been posted in a big enough size to be read because all of this information is important.

Below: The Wall of Names and the gate to look through at the final resting place

The wall for heroes on flight 93 and the visitor center

FLIGHT 93 - FLIGHT PATH OVERLOOK

Below: The crew and Passengers of Flight 93. All were heroes as they tried to storm the cockpit. They used the food cart as a battering ram against the cockpit door. There is controversy as to whether the passengers managed to breach the cockpit or even break the cockpit door but the hijackers remained at the controls.

The Tower of Voices serves as a reminder of the heroism of the 40 passengers and crew of United Flight 93. On September 9, 2018, a dedication event was held to complete the final phase of construction on the permanent memorial. The Chimes were installed and dedicated on September 10, 2020.

The tower is 93-feet tall with 40 wind chimes, representing the 40 passengers and crew members. The Tower of Voices provides a living Memorial through sound to remember the forty through their ongoing voices. The two RV Gypsies felt blessed to have been able to actually hear the wind chimes while they were there, although they felt that the chimes were not loud enough.