Two RV Gypsies: Full-Time RVers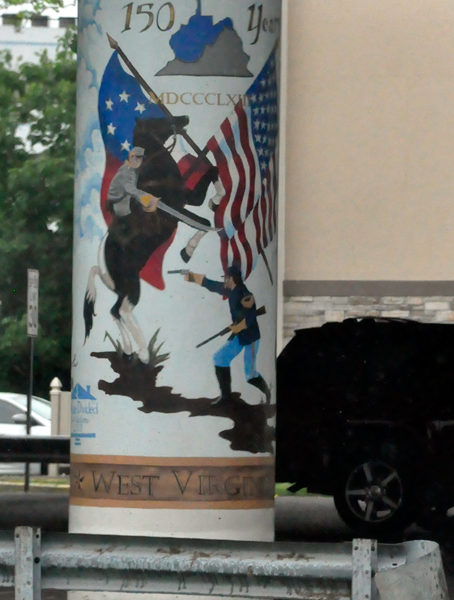 The below quote is from https://en.wikipedia.org/wiki/Charleston,_West_Virginia
Charleston was founded in 1788 and incorporated in 1794. It is the capital and most populous city in the U.S. state of West Virginia with 32.64 square miles of city, 31.50 square miles of land, and 1.14 square miles of water. Charleston is the center of government, commerce, and industry for Kanawha County, the county seat. Early industries included salt and the first natural gas well. Later, coal became central to economic prosperity in the city and surrounding areas. Today, trade, utilities, government, medicine and education play central roles in the city's economy.
Below: Two really great murals. The one on the left below looks 3D but is not

The West Virginia Capitol Building

The West Virginia Capitol building's height of its dome is 295 feet, which is 5-feet higher than the US Capitol dome. The Diameter of the dome is 75-feet. The floor space is 525,000 square feet. The weight of the chandelier inside the dome is 4,000 pounds, The weight of the individual bronze doors on each portico is 2,800 pounds. Unfortunately, the two RV Gypsies were unable to go inside the building on this date.

Close-ups of a circular wall on the side of Building 9 - The story of North America's growth

squirrels

Below: Angry face on the black squirrel because the two RV Gypsies did not have any food for it.