Two RV Gypsies: Full-Time RVers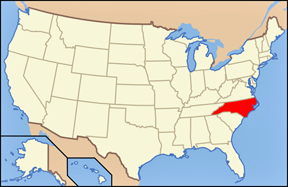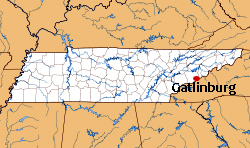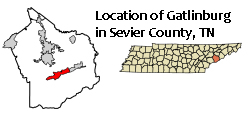 Gatlinburg is a mountain resort city in Sevier County, Tennessee, just south of Pigeon Forge and it borders the Great Smoky Mountains National Park.

It is a popular vacation resort 10.41 square miles in area.
It is surrounded on all sides by high ridges, with the Le Conte and Sugarland Mountain massifs rising to the south, Cove Mountain to the west, Big Ridge to the northeast, and Grapeyard Ridge to the east. The main watershed is the West Fork of the Little Pigeon River, which flows from its source on the slopes of Mount Collins to its junction with the Little Pigeon at Sevierville.
U.S. Route 441 is the main traffic artery in Gatlinburg, running through the center of town from north to south. Farther along 441, Pigeon Forge is approximately 6 miles to the north, and Great Smoky Mountains National Park is 2 miles. The Gatlinburg Trolley, a privately funded public transit system, caters to area tourists. Gatlinburg has numbered intersections in the core of the town. The numbers hang from traffic lights or signs and are written on official tourist maps.
Ober Gatlinburg is the only ski resort in the state. It has eight ski trails, three chair lifts, and a wildlife encounter area and is accessible via roads and a gondola from the city strip.
Below: This display got a lot of attention because it moved and had music. The two RV Gypsies also took a video which they will try to post at a later date.

Below: The two RV Gypsies had a lot of fun in the Mirror maze, 919 Parkway, in Gatlinburg just past traffic light #8 on the Parkway across the street from the Gatlinburg Convention Center. There are coupons to be found in lots of places in Gatlinburg, but the two RV Gypsies got a better discount as Military Veterans. They also purchased the 3-D glasses, which made it a lot more fun.

The two RV Gypsies came face to face with their own image in the mirrors, over and over. Photographs came out weird, but cool because of the inside.

Below: The two RV Gypsies saw a big bear in the back of a pickup truck.

Below: Flashback to May 1978- a family vacation to Gatlinburg. The two RV Gypsies are not sure of exactly where in Gatlinburg some of these photos were taken because Karen Duquette was not yet that into photography. Plus they did NOT have a website then, so photos were just put in a box and almost forgotten.

Below: Karen and Lee with their son, Brian Duquette

OR