Two RV Gypsies: Full-Time RVers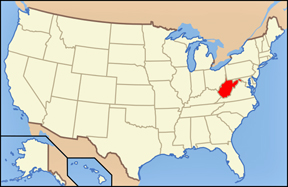 The East River Mountain Tunnel is a 5,412-foot vehicular tunnel that carries Interstate 77 (I-77) and U.S. Route 52 (US 52) through East River Mountain between the communities of Bluefield, West Virginia, and Rocky Gap, Virginia. Ground breaking began on the tunnel on August 12, 1969, and after five years of labor it was opened to the public at a ribbon-cutting ceremony on December 20, 1974. Its length is 5,412 feet long. The East River Mountain Tunnel is one of only two land vehicular tunnels in the United States that cross a state line, the other being the Cumberland Gap Tunnel, which the two RV Gypsies have also driven through.

The Big Walker Mountain Tunnel is a vehicular tunnel in the Appalachian Mountains of Southwest Virginia that carries Interstate 77 through/under Big Walker Mountain. It is located a few miles south of the town of Bland in Bland County and a segment of the Appalachian Trail, and about 20 miles south of its longer cousin, the East River Mountain Tunnel. The 4,229-foot tunnel was first opened in 1972 after five years of construction labor.

As Lee Duquette was putting diesel in the RV, Karen Duquette noticed the semi shown below and walked over to it and took some photos. The semi is beautifully painted in honor of The National League of POW/MIA families. Their website is listed on the truck as www.pow-miafamilies.org. As of July 15,2020, The number of Americans missing and unaccounted for from the Vietnam war is 1,538.
Then the two RV Gypsies drove to Fort Chiswell RV Park in Max Meadows, Virginia for a one-night stop before driving to The Carolinas.

Below: A very small swimming pool.

Below: The site for the two RV Gypsies at Fort Chiswell RV Park was a large drive-though site and had a partial cement pad to park on, as shown in the photo below. Roads in the campground were mostly dirt and gravel with a few paved areas. A lot of cable TV stations were listed in their brochure, but the stations came in lousy. Wi-Fi did not work very well either. Check-out time was noon. Most standard campground rules applied. The campground had a bathhouse, laundry, a propane station, and a few cabins on site. But as usual, the only thing the Two RV Gypsies use is their own site. For reservations call: '276.637.6868 (do not e-mail the Two RV Gypsies for reservations - this is for informational purposes only). There were hills all around the campground.

Below: The two RV Gypsies ate at
Cholula Mexican Restaurant
4760 E. Lee Highway
Max Meadows, VA 24360

It was a very small restaurant, but the food and the service was good and it was the closest restaurant to the campground.

OR