Two RV Gypsies: Full-Time RVers
The two RV Gypsies
enjoyed the company of their Maid-Of-Honor once again
in Thorntown and Lebanon, Indiana
Old Mill Run RV Park
8544 W. 690 N. in Thorntown, IN 46071
(Boone County)
reservation phone '765.436.7190
July 8-10, 2020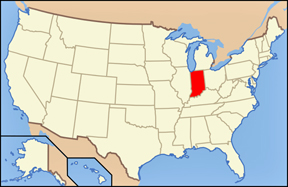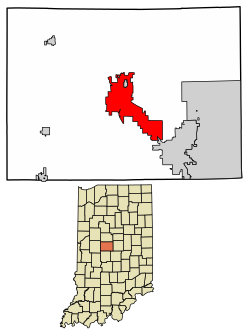 These comments are just the experience of the two RV Gypsies and do not make the campground good or bad in general.
Below: The road leading to Old Mill Run Campground

Most standard campground rules applied. No camping refunds. This is a family campground, so watch your language. Quiet hours 11 p.m. to 7 a,m. Children must be on their lot by 10 p.m. NO For sale signs allowed on campers. Bicycles must haver a light after dark.

The two RV Gypsies liked the decorated hay and the small Be Happy rock that Karen spotted when she first stepped out of the RV near the office. She did NOT take the rock, she left it there to delight others.

Mini-golf cost $1 per person, per hour on this date, payable at the office. Pool open from Memorial Weekend thru Labor Day. Children must be 14 to be at pool without parent. Other pool rules apply. The two RV Gypsies did not use the pool, or mini-golf course.

There was a big space between the RV of the two RV Gypsies on site 270 and the next RV. The park was full of permanent RVs in spots that were a lot less wide.

While here, the two RV Gypsies spent most of their time at the home of their maid-of-honor who lives in Lebanon, Indiana. They played a lot of friendly dice games with Sharon and Terry.
Below: Flowers at Sharon's house

The two RV Gypsies and friends at at Flap-Jacks Pancake House and Restaurant, 475 N Mount Zion Road in Lebanon, Indiana several times. The food was very good and so was the service. Their Philly Cheese Steak was excellent.

This is not a linear site, so there are always choices of where to go next: Below are three choices.
OR
OR