Two RV Gypsies: Full-Time RVers


The Outer Banks is a string of peninsulas and barrier islands separating the Atlantic Ocean from mainland North Carolina. From north to south, the largest of these include: Bodie Island (which used to be an island but is now a peninsula due to tropical storms and hurricanes), Hatteras Island, Ocracoke Island, Portsmouth Island, and the Core Banks. Over time, the exact number of islands and inlets changes as new inlets are opened up, often during a breach created during violent storms, and older inlets close, usually due to gradually shifting sands during the dynamic processes of beach evolution.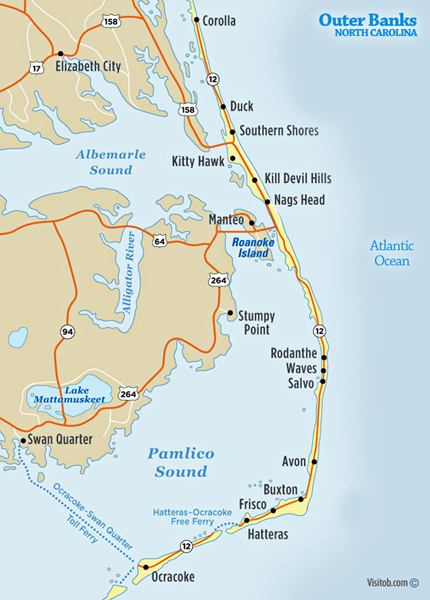 The Outer Banks are not anchored to offshore coral reefs like some other barrier islands and as a consequence they often suffer significant beach erosion during major storms. In fact, their location jutting out into the Atlantic makes them the most hurricane-prone area north of Florida, for both land falling storms and brushing storms offshore. Hatteras Island was cut in half on September 18, 2003, when Hurricane Isabel washed a 2,000 foot wide and 15 foot deep channel called Isabel Inlet through the community of Hatteras Village on the southern end of the island. The tear was subsequently repaired and restored by sand dredging by the U.S. Army Corps of Engineers. It was cut off once again in 2011 by Hurricane Irene. Access to the island was largely limited to boat access only from August to late October until another temporary bridge could be built.
The abbreviations (Outer Banks) and SOBX (Southern Outer Banks) are modern terms used to promote tourism and to market a variety of stickers, T-shirts, and other items to vacationers. OBX, which originated first, is generally used in the northern Outer Banks. SOBX is a misnomer, used to capitalize on the popularity of "OBX" and refers to the Crystal Coast area and the Bogue Banks.
Above quotes from Wikipedia, the free encyclopedia
Below: A pink Pig Mailbox in Duck, NC

Southern Shores, NC

Below: A few of the Painted Horses seen throughout The Outer Banks

OR