Two RV Gypsies: Full-Time RVers
Frederico Ristorante Italiano
519 23rd Street S
Arlington, VA 22202
April 5, 2019
phone '703.486.0519

Then the two RV Gypsies and Christine went to lunch at a nearby restaurant. The food was good. The server, David, was efficient, friendly, and fun. The decor was very interesting.

Crystal Kitchen Chinese Restaurant
1225 N. Lee Highway
Lexington, VA 24450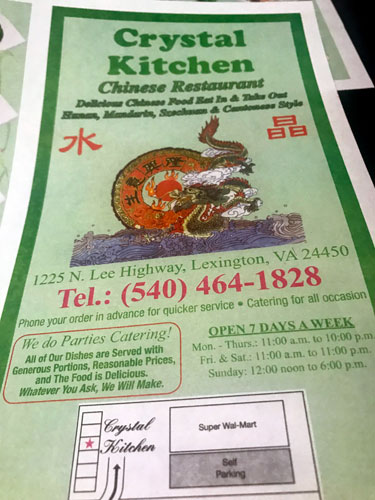 Karen Duquette totally hated the food and did not eat. Lee Duquette did not like the food but ate anyway.
Note: The above comments are just the experience of the two RV Gypsies. This review is only meant to help the two RV Gypsies decide if they wish to return to this restaurant again. They are not connected to the restaurant in any manner. These comments do not make the restaurant good or bad in general.