Two RV Gypsies: Full-Time RVers

(and previously on July 24, 2010)


Michigan became the 26th state in the USA on January 26, 1837.

State Capital - Lansing

The Name Michigan is from an Algonquian Chippewa Indian word "meicigama" that means "big sea water" "large water" or "large lake" (referring to the Great Lakes). State Nickname - Wolverine State

State Nickname - Wolverine State

Michigan is the eighth most populous state in the USA.

A person in Michigan is never more than six miles from a natural water source or more than 87.2 miles from a Great Lakes shoreline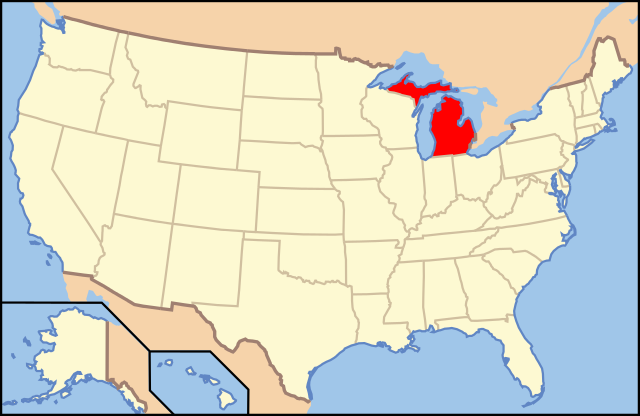 Michigan is the only state to consist entirely of two peninsulas. The Lower Peninsula, to which the name Michigan was originally applied, is often dubbed "the mitten" by residents, owing to its shape. When asked where in Michigan one comes from, a resident of the Lower Peninsula may often point to the corresponding part of his or her hand. The Upper Peninsula (often referred to as "The U.P.") is separated from the Lower Peninsula by the Straits of Mackinac, a five-mile wide channel that joins Lake Huron to Lake Michigan. The Upper Peninsula is economically important for tourism and natural resources.
{http://en.wikipedia.org/wiki/Michigan}
Below is an enlargement of each of the four sections in the above "Great Outdoors" sign from 2010 visit

The two RV Gypsies have been to the Tahquamenon Falls mentioned below. plus many others - use the TOC button at the top of almost any page and choose waterfalls to see these.

Below is an enlargement of each of the three sections in the above "Great State" sign in 2016

Pretty flowers at the Michigan Welcome Center

This is not a linear site, so there are three choices for continued navigation below:
OR