Delta Junction is known as the 'End of the Alaska Highway,' as the famous highway joins the existing Richardson Highway here to complete the route to Fairbanks. Named after the nearby Delta River, Delta Junction developed into an agricultural region as the result of state land disposal programs designed to encourage development. The area now is home to 37 large farms and more than 160 small farms. The area presents a picturesque rural setting complimented by spectacular views of the Alaska Range and the Delta River. Clear days allow stunning views of Mt. Hayes, Mt. Moffit and a number of other peaks. Accommodations: Three hotels/motels, fourteen bed and breakfast; ten restaurants.
The aboriginal inhabitants of the Delta area lived along the Tanana River, north of the present town. The community of Big Delta came into being just east of the junction of the Delta River and the Tanana River. A ferry there brought travelers across the Tanana. With the coming of the Alaska Highway during WWII, a community grew up at the junction of the Richardson Highway and the new Alaska or AlCan Highway. That community is now the City of Delta Junction. Today Delta Junction is a vibrant and friendly community with an economic center near the junction of the highways, but stretching far to the east and adjoining the US Army Fort Greely community to the south. It is also the official end of the Alaska Highway. From here, Richardson Highway leads to Fairbanks and connects Valdez at tidewater with Fairbanks in the interior. It predates the Alaska Highway by 20 years.
below - The visitor center (2009)
Lee saw a log cabin behind the visitor center that he wanted to buy and move into. Karen said, "NO Way - case closed."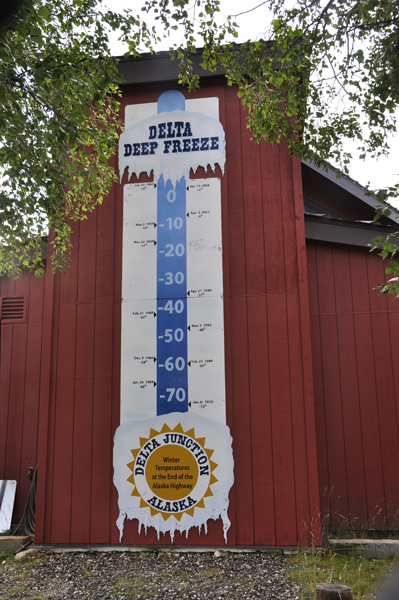 left side of the Delta Deep Freeze thermometer dates
are as follows, from top to bottom:
June 25, 1983 +9 degrees
May 5, 1958 -10 degrees
March 22, 2008 -17 degrees
Feb. 21, 1988 -42 degrees
Dec. 9, 1966 - 59 degrees
Jan 30 1989 -66 degrees
right side of the Delta Deep Freeze thermometer dates are as follows, from top to bottom:
April 13, 2008 +2 degrees
April 5, 2002 -9 degrees
April 21, 1949 - 37 degrees
March 5, 1992 -48 degrees
Feb. 23, 1980 -60 degrees
Jan 6, 1975 - 72 degrees