Page 2 of 4 - This hike started with Nawadaha Falls, then continued on to MANIDO Falls. This waterfall is just above Manabezho Falls and the Lake Superior Trail. All 4 sites can be reached through the link at the bottom of this page.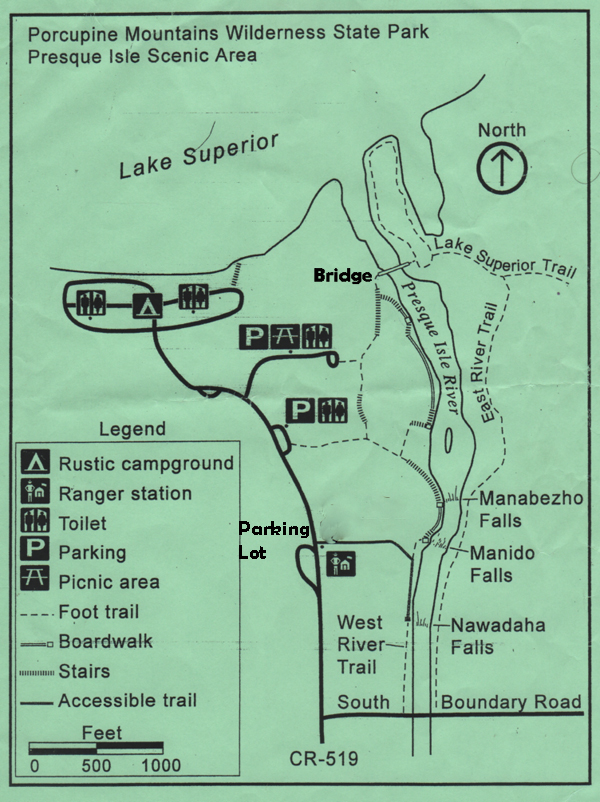 As shown in the above map, the two RV Gypsies parked in the parking lot shown on the map above, then hiked to Nawadaha Falls (page 1), MANIDO FALLS (THIS PAGE), and then they continued on to Manabezho Falls (page 3), then walked the trail along the Presque Isle River, crossed the suspension bridge, and walked the Lake Superior Trail all the way to Lake Superior, where they relaxed and cooled down in the very cold Lake Superior. (page 4).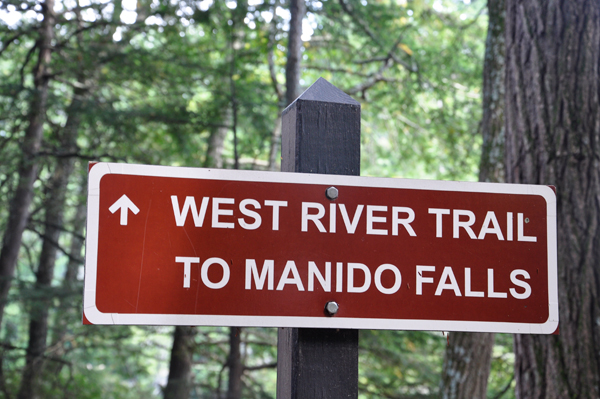 Since the hike to Nawadaha Falls was so easy, it surprised the two RV Gypsies when the trail to Manido Falls got difficult, since the falls are in the same area, and hiked at the same time.

The terrain got very steep and along the way there were also a lot of stairs.

Manido Falls is a waterfall on the Presque Isle River and is located in the Porcupine Mountains Wilderness State Park in Gogebic County, Michigan. With a drop of approximately 15 feet, it is the smallest of the waterfalls on the river. It has a crest between 50 and 150 feet, depending on the river volume. The name Manido comes from the Ojibway word meaning "spirit" or "ghost".

Below: Photos taken from the viewing platform.

Below: Looking at the falls from the viewing platform. This is the smallest of the Presque Isle waterfalls. This waterfall is only 10 feet high. Its width can vary widely depending on how much water is flowing. In the spring it can easily be over 100 feet wide, but on this date it was not very wide.

Note the lower right-hand corner of the photo below on the left because that is where Karen decided she would sit her butt in the water to cool off.

Below: The view from where Karen sat in the water.

Karen sat her butt down in the cold water and wet her hiking rag to cool down. She actually sat in a calm area of water, as noted above so she was not in any danger of being washed away with the water.

Since Karen was in no hurry to get out of the water and continue the hike to the next waterfall, Lee eventually decided to join her and sat in the water too.

Before heading on to the next waterfall, Lee took a panorama photo of the falls and the set of stairs that led to an overlook just above the falls on the west side of the river.