Two RV Gypsies: Full-Time RVers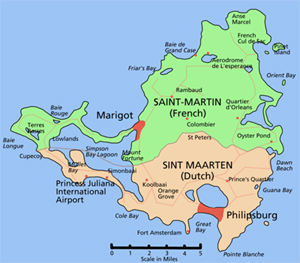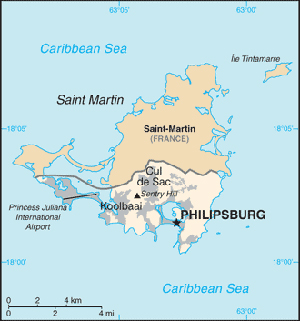 Saint Maarten is a constituent country of the Kingdom of the Netherlands. It encompasses the southern third of the Caribbean island of Saint Martin, while the northern two-thirds of the island constitutes the French overseas collectivity of Saint-Martin. Its capital is Philipsburg.
The official languages are Dutch and English. A local English-based creole dialect is also spoken. Air transportation to Saint Maarten and the whole island is served by Princess Juliana International Airport, which is well known for its very low final approach landings close to a popular beach at the end of the runway. Winair (Windward Islands Airways) has its headquarters on the grounds of the airport. Karen visited this part of the island a few years ago, but those photos are not posted here. There are no railroads on the island.
St. Maarten's economy is mostly based on tourism, either from tourists staying on the island or day tourists from the many cruise lines that dock in the Phillipsburg Harbour.
View of St. Maarten as seen from the ship as it arrived.

The Norwegian Getaway and other ships docked at St. Maarten
St. Maarten (this page)

OR