The two RV Gypsies visited friends
and explored North Beach, Maryland,
August 18-21, 2014
Motto "The Jewel of the Chesapeake Bay"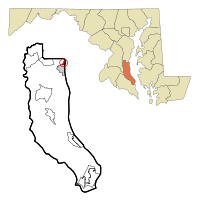 Maryland is a USA state located in the mid-Atlantic region of the United States, bordering Virginia, West Virginia, and Washington, D.C. to its south and west; Pennsylvania to its north; and Delaware to its east. Maryland was the seventh state to ratify the United States Constitution, and has three occasionally used nicknames: the Old Line State, the Free State, and the Chesapeake Bay State.
Maryland is also considered to be the birthplace of religious freedom in America, dating back to its earliest colonial days when it was made a refuge for persecuted Catholics from England by George Calvert the first Lord Baltimore, and the first English proprietor of the then-Maryland colonial grant.
Maryland is one of the smallest states in terms of area. The state's largest city is Baltimore, and its capital is Annapolis.
Karen Duquette and her friend, Barbara Stern who lives in Maryland.

North Beach is a town in Calvert County, Maryland, and was incorporated in 1910. The town was a gambling mecca for summer visitors from the Washington, D.C. area during the 1940s. In the 1960s and 1970s it became a destination for motorcycle gangs.

Revitalization began in the 1980s, and escalated in the 1990s. Tropical Storm Isabel destroyed many of the waterfront homes and boardwalk in 2003. Since then, the waterfront of North Beach has been rebuilt with multi-story homes and a condominium. North Beach currently has no gambling venues, other than MD Lottery sales, although many establishments in Chesapeake Beach offer games that exploit loopholes in the current laws to make playing profitable for patrons. The legalizing of slot machines at some horse racing tracks passed in a statewide referendum in November 2008.

Birds resting and drying their wings.

View of the dock and water from the patio - and view of houses from the dock.

Barbara Stern and Karen Duquette - friends

Lee and Bob deep in conversation.

Dynamite holes in the rocks. All the rocks lining the shore were brought up from the bottom of Chesapeake Bay.

The shell of a horseshoe crab

Lee Duquette sends his greetings
from North Beach

Karen and Barbara pet the sea otter

Purchased Wrist Bands are required on the beach but not on the boardwalk.

The benches on North Beach Boardwalk had plaques in memory of loved ones. Many also had a meaningful trinket attached.

Barbara Stern walked the line.

Birds enjoyed a snack in Barbara's backyard.

Karen Duquette on Barbara Stern's back porch.

Karen and Barbara went line-dancing.