Two RV Gypsies: Full-Time RVers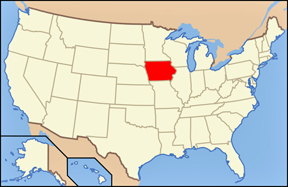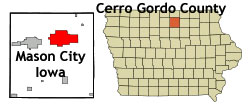 Mason City is located in North Central Iowa, in Cerro Gordo County, only a few miles from beautiful Clear Lake. The community is the hometown of Meredith Willson, composer of "The Music Man". Plus, the area is legendary as it was the final site of Buddy Holly, Ritchie Valens and J.P. "The Big Bopper" Richardson's concert.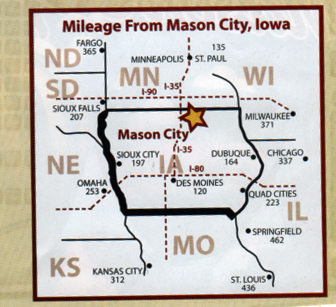 Mason City is also home to Prairie School Architecture with several buildings in the community designed by Frank Lloyd Wright including the only remaining hotel in the world designed by Wright. The largest collection of Bill Baird's puppets can also be seen in Mason City.
Civil War Soldier Monument: The monument shown below was located in the Central Park in Mason City. It is 27 feet high and of white bronze or zinc. It is impressive with very intricate design elements. There is also a plaque on a boulder nearby.

The region around what would later be first called "Shibboleth" was a summer home to the Sioux and Winnebago natives. The first settlement was made at Shibboleth in 1853 at the confluence of the Winnebago River and Calmus Creek. The town had several names: Shibboleth, Masonic Grove, and Masonville, until the name Mason City was adopted in 1855, in honor of a founder's son, Mason Long.

In 1854, John McMillin opened the first store, and Dr. Silas Card opened the first medical practice in the area. Lizzie Thompson established the first schoolhouse in a log cabin in 1856. The United States Post Office Department started service to the town in 1857. Mason City was named as the county seat in 1858.

Mason City is known for its musical heritage, consistently producing successful performers and educators. Meredith Willson, grew up in Mason City and played in the Mason City Symphonic Band as a high school student. Willson's crowning achievement was the famous musical The Music Man. Many of the characters in it were taken from people Willson knew from his childhood in Mason City.

Below: The Music Man footbridge is a deck truss bridge over Willow Creek. Open only to pedestrians. It connects River Heights Drive and South Connecticut Avenue named in honor of Meredith Willson, a Mason City native and internationally renowned composer. The footbridge is on the Historical Walking Tour.

Below: View of Willow Creek as seen from each side of the Music Man footbridge.

Below: Mural on the wall of the Community Theater

Below: Flower at The Music Man Square

Below: Lee Duquette really liked a piece of art that is actually a logo of a local company, Huber Supply.

This is not a linear site, so there are two choices for continued navigation below: