- YELLOWSTONE NATIONAL PARK -
MENU (TOC - Table of Contents)
Scroll down below the history and maps for the 2009 & 2012 menu
Yellowstone National Park; Old Faithful and the majority of the world's geysers are preserved here. They are the main reason the park was established in 1872 as America's first national park. A mountain wilderness, home to grizzly bears, wolves, and herds of bison and elk, the park is the core of one of the last, nearly intact ecosystems in the Earth's temperate zone. Yellowstone is open all year, though some areas of the park are inaccessible by car in the winter.
Warning about GPS Systems! Vehicle Navigation Systems and GPS units may provide inaccurate information, sending drivers the wrong way on one-way roads, leading them to dead ends in remote areas, or sending them on roads which are closed at certain times of year. Make sure to use park road maps available at entrance stations.
Yellowstone National Park covers nearly 3,500 square miles in the northwest corner of Wyoming (3% of the park is in Montana and 1% is in Idaho).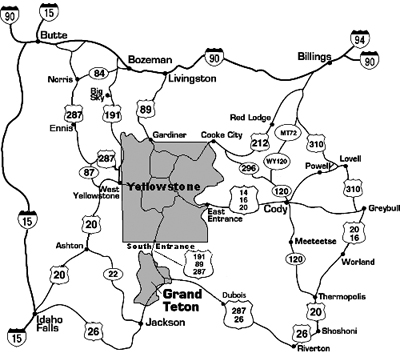 2012 and 2009 MENUS - each quite different
2. September 5, 2009 Yellowstone National Park - North Gate in Gardiner, Montana - The Roosevelt Arch, Norris Geyser Basin, 45th Parallel of Latitude, Hymen Terrace, Mammoth Hot Springs, Liberty Cap, Opal Terrace, the mud pots, Calcite Springs Overlook, waterfalls, wildlife and more.
(5 pages)