Two RV Gypsies: Full-Time RVers
The two RV Gypsies in DeLand, Florida
May 12, 2012
DeLand is the county seat of Volusia County, Florida and lies approximately halfway between Orlando and Daytona Beach. The city has a total area of 17.8 square miles.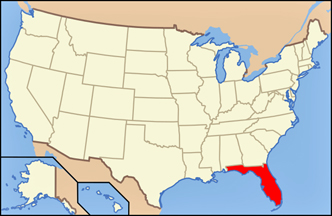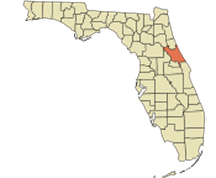 DeLand has been the filming location for several television and movie projects, with the most notable being the 1999 Adam Sandler comedy The Waterboy. The HBO miniseries From the Earth to the Moon filmed several scenes on the campus of Stetson University. The 1999 independent film The First of May, starring Mickey Rooney and Joe DiMaggio, was shot on various locations throughout DeLand. Days of Thunder, starring Tom Cruise, was also partially filmed in DeLand. New Urban Cowboy: Toward a New Pedestrianism (2008) was filmed almost entirely in DeLand in 2006 and 2007. [From Wikipedia, the free encyclopedia]
DeLand is home to Stetson University and the Museum of Florida Art. Noted for its historic architecture, the downtown has been undergoing extensive renovations in recent years. On February 2, 2007, DeLand and the surrounding area was hit by a major tornado outbreak which took several lives.

The Winnebago Vectra motorhome of the two RV Gypsies in DeLand, Florida

The two RV Gypsies and friends walking to the lake

At the lake
Lily pads on the lake in DeLand, Florida

a little bug in the below photo

A duck on the lake

A weird place to take a rest

Dee Dee Pierce, Dee Dee's daughter Judy, Karen Duquette, and Lisa Dupris in the RV of the two RV Gypsies

Flashback to January 9, 2012 - the two RV Gypsies with their friends, Forest "Woody" and Dee Dee Pierce (friends from when they all lived in Connecticut in the 70's)
Sadly, in the year 2015, Dee Dee Pierce went into the hospital for heart surgery and did not survive. The two RV Gypsies have been good friends with DeeDee since the early 70's and she will definitely be missed. Dee Dee was always happy and always laughing even though she had a very tough life growing up. We love you and miss your smiling face Dee Dee!
McGregor Park River District, some history of Clarksville, statue of Wilma Rudolph, Historic Collinsville, and friends of the two RV Gypsies